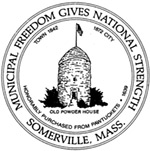 Plans for significant updates to the Union Square streetscape as well as the square's below-ground utilities took an important step forward this week. On Monday, July 8, Mayor Joseph A. Curtatone announced that international consulting firm Parsons Brinkerhoff has been selected for a wide-ranging utility and roadway improvement study in Union Square that will launch the design and pre-engineering process for the project. The design process, which will be informed by significant public input, will review and address both the above- and below-ground needs for Union Square now and into the future.
"This project will help us shape our greater vision for Union Square as a walkable, bikeable, transit-accessible community hub, but we will not overlook the very real need to address the utility problems in the area," Mayor Curtatone said. "This study will help us identify the best solutions for mitigating flooding in this area in an environmentally sensitive way. We may love our Victorian homes in Somerville, but a turn-of-the-century water and sewer system is no longer good enough. We will build the modern infrastructure needed to protect our homes and allow the square to become an even more vibrant town center."
The project will build on the 2002 Union Square Transportation Plan and a detailed 2009 study of transportation-related data in the square that yielded three recommendations and a design report for preferred alternatives. The aim of the streetscape improvements is to improve access, flow and safety for all modes of transportation and to maximize the usable, central public open space in the square, including the plaza. The proposed design will seek to update the plaza and streetscape designs, create an improved traffic flow and signal system, and a bus route and stop system consistent with plans for the Urban Ring and the Green Line Extension. Utility improvements aim further the city's goal of separating our water and sewer system, as well as adding much needed capacity to the current system.
"Union Square residents have been waiting a long time for these roadway improvements and I am pleased that not only is this project moving forward, but that it includes much needed utility improvements that better our residents' quality of life," Ward 3 Alderman Tom Taylor said. "These improvements will both help showcase all that Union Square has to offer and address the day-to-day services that our residents rely on. It is pragmatic investment in city infrastructure and a forward-looking plan to further invigorate the square."
"The rehabilitation of existing water and sewer utilities and construction of new infrastructure included in this project are critical steps to addressing flooding in Union Square," Ward 2 Alderman Maryann Heuston said. "In addition, making Union Square safe for pedestrians, bicyclists and those taking public transportation is key to keep the already flourishing neighborhood growing and thriving. By addressing traffic flow, roadway configurations, sidewalks and crosswalks, dovetailing with plans for the Green Line Extension, this project will make it easier for residents to get around their neighborhood and invite even more people to spend time in our wonderful neighborhood."
Parsons Brinkerhoff will manage the project out of its Boston office and will re-evaluate previous plans while working with the community, with the city holding at least four public meetings to solicit public input. The firm will identify any possible design alternatives and add utility improvement design work before presenting a recommended design based on community feedback and empirical data. That recommended design will also include a phased implementation plan. The $700,000 contract will bring the project to 25 percent of the design phase, which would then go before the Massachusetts Department of Transportation for review.
"I am excited to have an international firm like Parsons Brinkerhoff bring its extensive expertise to Somerville's Union Square," Mayor Curtatone said. "We are continuing to unlock the tremendous economic potential in this neighborhood. It's one step in a multi-pronged approach, along with the Green Line Extension, the grounding of McGrath Highway and the elimination of the waste transfer station that will spur new growth, while making Union Square both a destination for visitors and a thriving neighborhood."
"Union Square's strength as a major crossroads for road and rail is also a challenge for transportation planning," said Mimi Graney, Union Square Main Streets executive director. "We're looking forward to improvements that will create a safe multimodal design that will meet the needs of pedestrians, cyclists and drivers and support the ongoing invigoration of the neighborhood. Greater clarity in the roadway pattern will go a long way to assist visitors seeking out our neighborhood's burgeoning businesses while improvements to public space will foster even more pedestrian activity. Union Square Main Streets welcomes the opportunity to work with the consultants to pull in community input and ideas. I'm pleased that the City of Somerville is maintaining its commitment to invest in the future of Union Square."