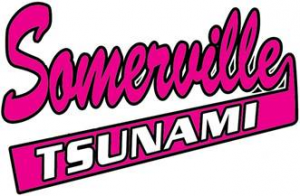 The Somerville Tsunami 10U girls softball team notched their 3rd straight win defeating Melrose 12-5 Monday night to start the season 3-0 tied atop the MiddleEssex 10B standing.
After a successful spring program, the Somerville Youth Softball held tryouts and selected players from the recreation season to play at both the 14U and for the first time in the 10U division level in the expansive MiddleEssex Softball League.
Two weeks into the season the 10U Somerville Tsunami have won games against Winchester (8-1), Burlington (9-5) and Melrose (12-5).
Led by the timely hitting of Caitlin Fitzgerald (.750, 6 runs), Jadea West (.600, 4 runs), Ava Regan (.500, 3 runs), Hannah Fray (.300, 3 runs), Yukti Sharma (.200, 4 walks, 3 runs), Ishvita Bali (3 walks, 2 runs) the Tsunami have scored 29 runs in those three games while only allowing 11 runs.
The Tsunami have been led on the mound by the strong pitching of Nevalee Hawkins (3-0, 25 strikeouts) and outstanding catching of Chloe Wilson (4 walks, 4 runs).
The Tsunami also look to a bright future with players who have stepped up from the Somerville Youth Softball 12U and Instructional programs to play in their first travel league games:  Victoria Delosreyes, Jasmine Fridman, Katie Ziko, Jamie DaSilva, Nevaeh Sanchez and Emma Benevento.
The Tsunami 10U are on the road for their next three games, but you can catch their next game at Trum Field on Thursday, July 18th at 6:15PM when they play Lynnfield.  You can also follow the results and standings at: http://www.eteamz.com/Middleessex/.
Somerville Tsunami 10U Division B
Thu 7/18/13 6:15pm
Somerville Tsunami 10B vs. Lynnfield Blue 10B
Trum Field
Thu 7/25/13 6:15pm
Somerville Tsunami 10B vs. Winchester Sachems 10B
Trum Field
Mon 7/29/13 6:15pm
Somerville Tsunami 10B vs. Charlestown Townies 10B
Trum Field
Tue 7/30/13 6:15pm
Somerville Tsunami 10B vs. Watertown Wildcats 10B
Lincoln Park
Wed 8/7/13 6:15pm
Somerville Tsunami 10B vs. Charlestown Blue Diamonds 10B
Trum Field
Somerville Tsunami 14U Division B
Thu 7/11/13 6:15pm
Somerville Tsunami 14B vs. Lincoln-Sudbury Warriors 14B
Trum Field
Wed 7/17/13 6:15pm
Somerville Tsunami 14B vs. Wilmington Wildcats White 14B
Trum Field
Fri 7/19/13 6:15pm
Somerville Tsunami 14B vs. Waltham Summer Hawks 14B
Trum Field
Tue 7/23/13 6:15pm
Somerville Tsunami 14B vs. Medford Mustangs 14B
Trum Field
Tue 7/30/13 6:15pm
New England Nor'Easters 14B vs. Somerville Tsunami 14B
Trum Field
Wed 7/31/13 6:15pm
Somerville Tsunami 14B vs. Reading Reign 14B
Trum Field
Tue 8/6/13 6:15pm
Somerville Tsunami 14B vs. Everett Riptide Maroon 14B
Trum Field