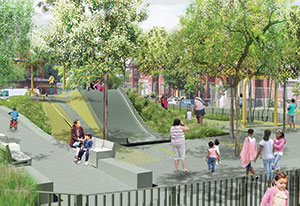 Mayor Joseph A. Curtatone and Ward 1 Alderman Maureen Bastardi announce two events to celebrate the ongoing renovation along East Broadway. On Monday, July 15 the City of Somerville will partner with East Somerville Main Streets (ESMS) for a ceremonial groundbreaking for the East Broadway Reconstruction Project that began in Fall 2012.
The city will also officially re-open the recently renovated Chuckie Harris Park on Cross Street East. The events will begin at 6 p.m. at Chuckie Harris Park, followed by a short walking tour of East Broadway led by the Mayor. A reception will follow the tour, and light refreshments will be served at Harris Park prior to the speaking agenda.
"East Somerville is on the brink of a total, positive transformation, and the reconstruction of East Broadway and the addition of a new and exciting play space for children and families really highlights all the tremendous progress being made in that neighborhood," said Mayor Curtatone. "Renowned restaurateurs, developers and executives have already recognized East Somerville's potential and new restaurants and businesses have cropped up over the last several months. Though work has been ongoing, we are excited to welcome Chuckie Harris Park, and to celebrate summer by highlighting the great progress being made in East Somerville."
"Residents of East Somerville have long awaited the changes that are finally coming our way, and as we already start to see the changes and positive results, we look forward to showing the rest of Somerville, and the entire metro area, the unique flavor, diversity, and thriving local business district that East Somerville has fostered for so long," said Alderman Bastardi.
The East Broadway Streetscape Project will include major upgrades to safety and traffic operation systems, including the addition of bike lanes in each direction, infrastructure improvements and streetscape improvements such as wider sidewalks, new trees and sidewalks. The project began in late 2012 and is expected to be completed in 2014. Construction updates and additional information are available at www.somervillema.gov.
"The East Broadway renovation and the new Harris Park design both do such a nice job of playing off of the East Broadway Business District's existing asset, a vibrant street life," said Carrie Dancy, Executive Director of East Somerville Main Streets. "The wider sidewalks will quickly make East Broadway the city's outdoor dining destination – and the seating and movie screen at the park convert it in an instant community hub. We can't wait to see even more people out enjoying the neighborhood and business district."
Chuckie Harris Park, a formerly vacant, paved lot on Cross Street East, underwent significant reconstruction over the last year. The park honors the memory of Somerville resident Chuckie Harris. Upgrades to the park were designed with significant community input, and the park now includes more than 70 new trees, multi-functional recreational and meeting spaces, and 100% ADA accessibility, transforming the space from a vacant lot to an urban oasis.
Monday's events will begin with a brief speaking agenda, followed by a ribbon cutting officially re-opening Chuckie Harris Park. Mayor Curtatone will then lead a short walking tour up Cross Street East, left onto Broadway, finishing at the East Branch Library, during which participants will learn about and see firsthand the work ongoing on Broadway. Demonstrations of bike lanes, café seating, and more will be available along the route. At the end of the tour, everyone is invited to a reception to be hosted by the East End Grille.
For more information about either of these projects, visit www.somervillema.gov or contact the Mayor's Office of Strategic Planning and community development at 617-625-6600 x2500.