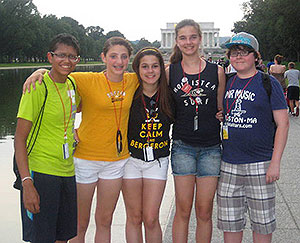 On June 9-13 five students from the Kennedy School took part in the National History Day competition, with over 5000 students competing from all over the United States, Puerto Rico, Guam, and American Samoan, as well as international schools in China, Singapore and Japan.
This was the Kennedy's twentieth-second year competing at National's, making it the most successful middle school in Massachusetts. History Day has been proven successful at the Kennedy year after to year. It is considered an important part of the Social Studies curriculum and it allows all students to be successful.
The success of all the students at the Kennedy School would not have been possible without the hard work of Jennifer Sears and Christine Colangelo.
Competing at Nationals was Emily O'Regan and Kaleigh Conte with their performance The Truth Prevails: How Two Women Took Back America from A.I.D.S., Marissa Toner with an individual performance entitled Masquerade of one American Solider and Kevin Long and Anmol Maini with a website entitled Next Stop: History.