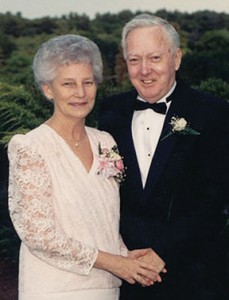 Doris M. (Higgins) Quinlan – Passed away June 5, 2013 and her husband John T. Quinlan passed away on June 6, 2013. Both were residents of Somerville.
They were married for the past 56 years. Loving mother and father of Mary Jo Rossetti and her husband Richard of Somerville, the late Caroline Peloquin and her surviving husband Bernard and his wife Judith of Westford. Doris was the sister of Brian Higgins of Chelmsford and the late Thomas Higgins. John was the brother of Carolyn Ryan of Hanover. They were the dear grandmother and grandfather of Jaclyn Rossetti and her fiancé Jason Piques, Kara Rossetti, Anne Marie and Christine Peloquin. They are also survived by many loving nieces and nephews.
A Funeral procession was held for Mr. and Mrs. Quinlan, from the George L. Doherty Funeral Home, 855 Broadway (Powder House Sq.) in Somerville on Monday morning, June 10, followed by a Funeral Mass in St. Clement Church in Somerville. Calling hours for Mr. and Mrs. Quinlan were on Sunday, June 9. Interment was held at Massachusetts National Cemetery in Bourne Monday.
John was a Veteran of the US Navy, WWII. Prior to his retirement, he was a Firefighter for the City of Somerville for 28 years. Both John and Doris were members of the James A. Logan Post, #6800.
Donations may be made in John and Doris' memory on behalf of Caroline Peloquin's memory to the Somerville High School Scholarship Foundation, P.O. Box 440275, Somerville, MA 02144 or Hallmark Health Hospice, 178 Savin St., Suite 300, Malden, MA 02148.