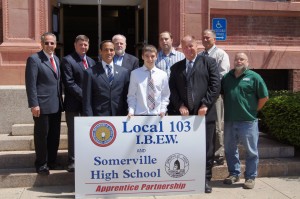 Daniel Roderick, a four-year electrical student in the Somerville High School's Center for Career and Technical Education (CTE), was selected for the IBEW Local 103 pre-Apprentice Partnership Program at Bent Electric. The apprenticeship is a five-year program in which participating students become members of the International Brotherhood of Electrical Workers.  IBEW Local 103 represents all of eastern Massachusetts.
Daniel began learning his craft from now retired instructor, Patrick Smith. Dan excelled over the past four years at SHS, polishing his craft to become a top electrical apprentice.  He continued honing his craft under new Instructor, Frank Zagarella.  Daniel was an award winning student in the electrical program, receiving the 2013 electrical program's Vocational Achievement Award, and has the goal to become a licensed electrician. He began his apprenticeship with Bent Electric, in Somerville, earlier this week.
"Dan has been an outstanding electrical student at Somerville High School for the past four years.  He set a goal, worked diligently to achieve it, and is now well on his way to becoming a licensed electrician," stated CTE Director, Leo DeSimone.  "He has a great work ethic and a great attitude.  I look forward to hearing from Dan about his continued success in his chosen field."
IBEW Local 103's pre-Apprentice Partnership Program is a highly competitive and widely-recognized program which guarantees students a rigorous course load that includes 10,000 hours of on-the-job training and results in the completion of a Journeyman License. Students earn competitive wages throughout their participation in the program.
"IBEW Local 103 and Bent Electric have been outstanding partners through the years," commented Somerville Public Schools Superintendent Tony Pierantozzi.  "We appreciate their continued support of Somerville High School graduates and their commitment to Somerville youth.  I congratulate Daniel on his outstanding work at Somerville High School and wish him much success in his chosen field.  He is off to a great career start.  We look forward to hearing about his continued success in the years ahead."
"Congratulations to Daniel Roderick on his selection for this year's IBEW Local 103 award and the best of luck as you embark upon your career," said Mayor Joseph A. Curtatone.  "This program provides critical on-the-job experience for Somerville students, preparing them for post-graduation success. I am grateful for IBEW 103 and Mike Calder's partnership with the City and our public schools, and thank them for their continued commitment to our city's youth."
"We continually look for the best and brightest students to bring into Local 103 IBEW and to enter our program, which we regard as second-to-none in the construction industry," added Michael Calder, IBEW 103 Business Agent.  "It is vitally important for Local 103 to reach out to our vocational schools to get the next generation of our membership.  Our five-year apprenticeship program offers these young members a chance in the electrical industry that puts them on a path to a long and prosperous career in this ever-changing industry."
The mission of the IBEW Local 103 is to provide the most skilled and productive workforce in the world, while protecting the rights and benefits of every worker.  IBEW 103 bases much of its success on training and developing workers who deliver on-time and on-budget projects, and who foster a safe working environment. IBEW members and contractors have been lighting the skyline of Eastern Massachusetts for more than 100 years.  More recently, Local 103 has become the industry leader in emerging markets such as Wind Power and Solar energy.