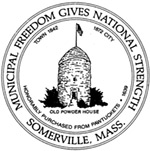 At the regular Board of Aldermen meeting on Thursday, May 23, Mayor Joseph A. Curtatone and Aldermen Connolly, Cuff-Bastardi, Desmond, Heuston, O'Keefe, Sullivan and Trane introduced an ordinance that would set limits for campaign contributions made to any candidate or incumbent for public office in the City of Somerville by developers, contractors, lobbyists or individuals and organizations seeking to do business with the City including, financial assistance such as grants, loans or tax incentives from the City, or City contracts not awarded to the lowest bidder.
The ordinance proposes that applicants who made contributions in excess of $250 in the calendar year of an application or year prior would be ineligible for any such contract or financial assistance unless contributions were refunded in full. Any applicant, anyone attributed to the applicant, and any subcontractor used on any contract—with the exception of lowest bidder contracts—shall not make any contribution to any incumbent or to any candidate in excess of $250 per year for the following four calendar years or for the duration of the term of any contract, whichever is longer. Those found to be in violation of the ordinance would be subject to a $300 fine.
The ordinance also addresses the direct solicitation of contributions by any candidate to municipal employees, in addition to existing state campaign finance laws.  Lobbyists and municipal agents would now be required to file annual disclosure statements and give notice as to any matter pending before the city.
"The City of Somerville, particularly under this administration, holds a firm commitment to transparency, through government management and through public processes. Campaign finances and contributions, especially as they relate to potential municipal partners or employees, should be subject to the same careful scrutiny by members of the general public," said Mayor Curtatone. "This proposal allows for more accountability and more reassurance for community members that we are fulfilling the duties incumbent on us as elected officials fully in the public interest."
The ordinance applies to any person and their family members, and to a corporation, partnership or limited liability corporation, including officers, directors, members, managers, principles and shareholders in excess of 10% or any of its employees who have filed an application with the City of Somerville or any City-related agency in any of the following situations: (i) seeking to enter into a Contract, except where that contract is required by law to be awarded to the lowest bidder; (ii) seeking to acquire real estate from the City or any City-related agency; (iii) seeking financial assistance from the City; or (iv) seeking employment with the City, by contract or otherwise, union or non-union, civil service or non-civil service, as well as those currently employed by the City.
The ordinance was referred to the committee on legislative matters for further discussion.