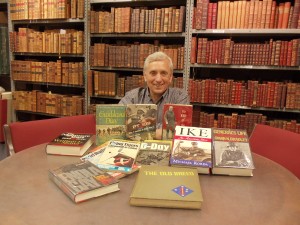 By Kenneth Gloss
It's been more than 50 years since the end of World War II, but America's interest in its battles and combatants is still strong. The campaign to erect a memorial to World War II veterans and the popular movie dramatizing the attack of Pearl Harbor and the subsequent raid on Tokyo as well as Tom Brokaw's book, The Greatest Generation caused a surge of interest.
World War II history is a vast subject area, and the amount of memorabilia available is enormous. There are many different aspects of the war that could be the focus of a collection. The particular aspect that appeals to you depends on your personal interests, where you are from, and how much money you have to invest in collecting. Currently most collectors are interested in detailed books on the logistics of the war, although interest in other areas, such as the Far East campaign, the bombing of Britain, or the use of the atomic bomb, is still high.
World War II veterans have always accounted for a large number of the collectors. They either collect very general books on the subject, or concentrate on works about the theatre in which they served. As these veterans grow older and move to smaller retirement homes or pass away, their collections are hitting the market, making World War II books easy to find. The majority of these books cost anywhere from $15 to a few hundred dollars.
Serious collectors tend to pick one small area to focus on in-depth. Typically, books that have a more narrow focus are of a higher quality than the general books that are being mass marketed by history book clubs. A more thorough treatment of a subject is possible when you're writing about a particular type of airplane or armament than when you're writing about a broad topic like the battles in the Pacific.
One area that interests a lot of people is espionage. One of our former customers, Mo Berg, was an athlete who played for the Boston Red Sox. He was also a scholar, and served as a spy during World War II because of his ability to speak 10 languages. At one point he was secretly flown into Germany to determine if they were inventing an atomic bomb. Another time he traveled to Japan with the Red Sox, broadcast the game in Japanese, and later took pictures of Tokyo from the roof of his hotel. I knew Mo most of my life. Sometimes a personal event, such as meeting someone like Mo, can affect your life and lead you into collecting a specific area. Talking with Mo could inspire you to collect spy books, baseball books, or linguistic books. Additionally, you could collect items regarding Jewish athletes, of which there have been very few. Items that deal specifically with Mo Berg are way up in value today.
Another distinct area people collect is histories of particular units, such as the Army's Big Red One or the 82nd Airborne, or of individual ships, such as the Saratoga. They often put out what amounted to yearbooks, showing officers and enlisted men during a particular time frame. These books can be incredibly hard to get because they were usually only distributed to people in the division or on the ship, and they hold much sentimental value for them and their relatives. Prices for such books range from $50 – $300.
Some collectors tend to focus on the prominent characters of the war, like General Eisenhower, General Patton, or Winston Churchill. Most of the material in this area can be purchased from a few dollars and up. What starts to get really expensive is the autographs of such figures, including signed documents and other signed items. Books signed by either Eisenhower or Patton can run from the hundreds into the thousands of dollars. Churchill wrote many books, and signed a great deal of them, that are usually worth a few hundred dollars.
Books about military uniforms are a separate, huge field of collecting. It takes tremendous research to document the colors, medals, shapes, and paraphernalia that make up an appropriate uniform for the different types of soldiers in the different units of each country's military. Uniform collecting is especially popular with people who create dioramas or those involved in battle re-enactments. People also like to collect letters the soldiers sent home because they can give some idea of what it was like to be in the battle. Soldier's letters can bring an event that often seems long ago and overwhelming down to a personal level, revealing the human side of an event often looked at from purely tactical or technical terms. Books, letters and mementos of prisoners of war can do the same.
One collectible area that arouses much controversy is that of Nazi war memorabilia. We really don't like to deal in it, and find it quite difficult to think of profiting from its sale. One transaction that has left a lasting impression on me over the years was our purchase of a collection of horrific photographs of concentration camps taken by an AP photographer. We purchased the collection from his daughter and donated it to Facing History and Ourselves, a national group headquartered in Brookline. The photographs are now used to teach students and others about the Holocaust in hopes of preventing such a tragedy from happening again.
World War II ended in 1945, but the influence it exerted on every aspect of American life since that time has kept it alive in the minds of thousands of people. Collectors of World War II books and other memorabilia include those with an interest in history, those with an interest in the military, and those with a personal link to the war itself. Because the interests of the collectors are so varied, and because it is such a large subject area, World War II collecting is enjoyed by collectors of every age, background and budget.
Ken Gloss is the owner of the Brattle Book Shop in Boston, the oldest antiquarian bookstore in the United States. 2013 is the 64th year of Gloss family ownership. Visit the Website at: http://www.brattlebookshop.com / or call 1-800-447-9595. Ken has been a frequent guest appraiser on PBS' "Antiques Road Show" as well as other radio and television programs.