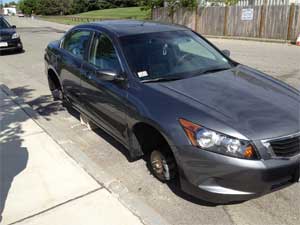 By William Tauro
A Honda belonging to a City of Somerville employee who parked her car on New Washington Street in Somerville overnight  Wednesday, returned the next day to find it on blocks and two of her wheels missing.
The employee left her car there overnight while she was on a Somerville Council on Aging overnight field trip chaperoning Somerville seniors who were on an overnight stay in New Jersey.
The vehicle was noticed by pedestrians at around 8 a.m. on Thursday morning sitting on a cinder block and it's two passenger side wheels missing.
The Somerville Police were called and made aware of the situation and said that they will be stepping up patrols on that street.