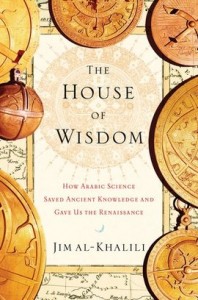 The Somerville Public Library announces a new book discussion series entitled, "Muslim Journeys," beginning on Thursday, May 30 at 6:30 p.m. with a discussion of Jim al-Khalili's book, House of Wisdom: How Arabic Science Saved Ancient Knowledge and Gave Us the Renaissance. The program is funded by the National Endowment for the Humanities and the American Library Association, and aims to familiarize the American public with Islam and the cultural heritage of Islamic civilizations around the world. The May 30 discussion will be led by Tufts University Professor Malik Mufti, a professor of international relations and politics of the Middle East. The program is free and open to the public. Partners include the Center for Arabic Culture and Tufts University.
"The Somerville Public Library brings people together to learn about ideas, each other, and our greater humanity," said Maria Carpenter, Director of the Somerville Public Library. "We think the Muslim Journeys project is particularly important as it is intended to promote tolerance and understanding and for community members to learn more about and celebrate the many contributions of Muslim Americans."
House of Wisdom is one of the titles from the Bridging Cultures Bookshelf: Muslim Journeys Collection, which the SPL recently acquired through a grant.  Muslim Journeys is a project of the National Endowment for the Humanities, conducted in cooperation with the American Library Association.  Major support for the Muslim Journeys Bookshelf was provided by a grant from Carnegie Corporation of New York. Additional support for the arts and media components was provided by the Doris Duke Foundation for Islamic Art.
About House of Wisdom:
With transporting detail, Al-Khalili places the reader in the intellectual and cultural hothouses of the Arab Enlightenment: the House of Wisdom in Baghdad, one of the world's greatest academies, the holy city of Isfahan, the melting pots of Damascus and Cairo, and the embattled Islamic outposts of Spain. – Penguin Press
Al-Khalili brings to life a vibrant intellectual period of Islamic history when there was not only tolerance for other religions and cultures but a synergy between science and Islam. Anyone interested in the early history of science or the development of the scientific method before Galileo will find this an engaging study.  – Cynthia Knight, Library Journal review
For more information about the event or the Muslim Journeys series, see http://www.somervillepubliclibrary.org/