Proposed Zoning Overhaul Seeks to Implement SomerVision, Somerville by Design Goals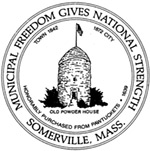 Mayor Joseph Curtatone and the Office of Strategic Planning and Community Development (OSPCD) announce the formation of a Zoning Advisory Committee, a team of 20 individuals from a variety of backgrounds, which will advise the Mayor and Planning Staff as they seek to overhaul the Somerville Zoning Ordinance.  The team will serve as a sounding board as the City develops strategies to develop the new Somerville by Design Zoning Ordinance that will implement the goals of the SomerVision Comprehensive Plan. The new zoning will also implement the transit-oriented goals of the recent Station Area Planning series and address concerns addressed in last summer's report submitted to the Board of Aldermen about the RA and RB zoning districts.
The SomerVision Plan recommended over a hundred changes to the Somerville Zoning Ordinance. The most recent overhaul of the zoning was 23 years ago, and while zoning best practices have changed, and Somerville has changed, the structure of Somerville's zoning ordinance has not.
"Somerville has been widely regarded as a leader in best practices, from open government and customer service to our innovative programs and policies," said Mayor Joseph A. Curtatone. "An updated zoning ordinance, based on national best practices and local needs, will provide more clarity and certainty for the developers and residents alike. I look forward to an immersive and transparent process which will benefit all stakeholders in the City."
"The core of the Somerville Zoning Ordinance has remained unchanged since 1925," said George Proakis, Somerville's Director of Planning, "Past updates to the zoning have always focused on protecting the iconic character of Somerville's neighborhoods, fostering the City's vibrant town squares, and balancing the powerful market pressures for infill development with the concerns of existing residents. Each amendment was made to address the concerns of the time using the best regulatory tools that were available to planners and administrators. But, the trade-off with this approach was that the rules became increasingly complex for local property owners, architects, lawyers, and administrators to understand. With a new revision, it is my hope that the Zoning Ordinance can protect residential neighborhoods while encouraging new transit-oriented development, and this advisory committee will help us determine the best way to achieve those goals."
The Zoning Committee is comprised of:  Ward 4 Alderman Tony LaFuente; Brandy Brooks, SomerVision Steering Committee member; Natasha Burger, Historic Preservation Commission; Adam Dash, Attorney; Rich DiGirolamo, Attorney;  Ben Dryer, Contractor; Deborah Fennick, Design Review Committee; Susan Fontano, Zoning Board of Appeals; Lenore Hill, Vice President, Coldwell Banker Residential Brokerage; Tom Lichoulas, Ward 3 resident and Developer; Courtney O'Keefe, Ward 5 resident; Kevin Prior, Planning Board; Peter Quinn, Architect; Jeff Roberts, Ward 6 resident and Planner; Kat Rutkin, Somerville Local First; Rebecca Schrumm, President of the Somerville Chamber of Commerce; Courtney Koslow, Ward 5 resident and Developer; Mark Chase, Ward 3 resident; Phil Ercolini, Ward 1 resident; and Anne Tate, Ward 4 resident.