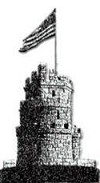 Dog owners are among the most faithfully loyal of all the animal species in the world. They pamper their pets lavishly, oftentimes treating them as if they were members of their own families.
And why not? Where's the fun and sense of fulfillment involved in pet ownership without allowing that special bond to grow and flourish?
Consequently, we wish for only the best for our furry four-legged friends. We get them the best food we can afford, lots of fun toys, and take them to special places where both man and beast can get the most out of that special relationship.
And, like most family, we usually feel that our loved ones can do no wrong. Our love blinds us to those little behaviors that may annoy others, but never seem to phase us.
Specially designated dog parks are a gift to us and our canine friends. They have been generously provided by the community as a whole in order to give us a place where our dogs can be what they are, naturally. Who could ask for more?
It seems that a few, however, do indeed want much more. It is understandable that we want our pets to run free and have fun, but it is also the non-pet owner's right to have their own designated open spaces that are free from unwanted waste and potentially aggressive animals.
Loyalty is commendable, but common sense is imperative.
Let's think this one through carefully.