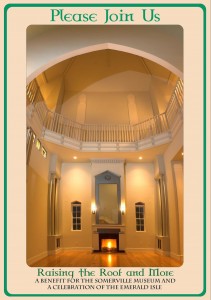 The Somerville Museum is hosting a benefit and celebration of Somerville's Irish heritage on Friday, March 15, 2013, 5:30-8:00pm, as part of an ongoing effort to raise funds for critical building repairs and improvements in accessibility.
The celebration will take place in the breathtaking Sanctuary space  that was once part of the historic First Methodist Church, at 1 Summer Street in Union Square.  Entertainment will include a trio of Irish musicians, Roseanne Santucci and Friends, who are known from numerous venues in the Boston area.   Servers dressed in historical period clothing will treat guests to a splendid array of hors d'oeuvres provided by Peasant Stock Catering and many local restaurants, plus a variety of beverages, including Irish beer, selective local brews such as Pretty Things, wine, and Tower Root Beer first brewed in Somerville in 1914.  Throughout the evening guests will be invited to participate in a silent auction showcasing a variety of products and services donated by local businesses and individuals, including a pair of Celtic game tickets, a unique dress created by the fashionable boutique Whats-Nü in Davis Square, a framed 1852 Draper Map of Somerville and beyond, and numerous local gift certificates.
All proceeds from this "Raising the Roof and More" event will go to the Somerville Museum Building Fund, where it will match a State grant to finish repairs on the museum's historic windows, doors, and trim.  Once that work is completed this spring, the next priority will be to execute the architectural plans for providing universal accessibility to the Museum, both at the entry and within the historic building on Westwood Road and Central Street.   Barbara Mangum, President of the Museum's Board of Trustees, welcomes all with " Sláinte!  And cheers to the Irish in all of us!"
Tickets for this "Celebration of the Emerald Isle" are $50 for the general public or $40 for members of Historic Somerville or the Somerville Museum, seniors, or students with ID. Tickets can be reserved in advance at 617-710-7453 or online at http://www.somervillemuseumbuildingfund.org  Key sponsors of the event are Vicky I and Philip Lamb, Sara Rosenfeld, Gentle Giant Moving Company, Thalia Tringo & Associates Real Estate, and F. W. Russell & Sons Disposal, Inc.
For more information, including details about off street parking, please visit the above website or contact Brandon Wilson at brandonathome@rcn.com or 617-776-3938.