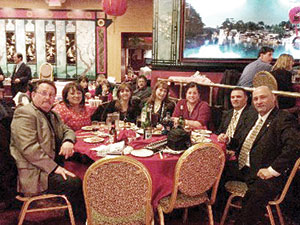 By William Tauro
The Benevolent Asian Jade Society (BAJS) of New England held its Annual Banquet in Boston's Chinatown District this past Friday night to celebrate the year of the snake.
With over four-hundred-fifty attendees at the event, a majority of them law enforcement officers from various agencies, along with their families, from across the nation including New York PD, elected officials and Jade Society members and friends.
At the event a group representing the City of Somerville, led by Ward 2 Somerville Alderman Maryann Heuston, City of Somerville's (BAJS) associate member Rick Willette, and The Somerville News' (BAJS) associate member Bill Tauro were present at the event.
There was everything there to enjoy from an eight course dinner to the traditional Chinese New Year Dragon Dance, as well as Martial arts demonstrations performed live by various local Boston Chinatown youth organizations.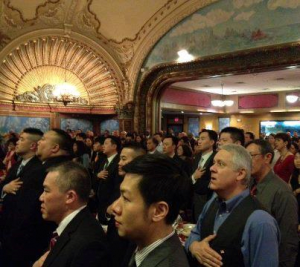 The Society was started in 1983 by eight sworn officers of the Boston Police Department known as the Asian Jade Society of Boston. Since then, the name of the Society has been changed to the Benevolent Asian Jade Society of New England (BAJS of New England).
The Society is a Not For Profit organization and a member of the National Asian Peace Officers Association (NAPOA).
The Society's membership consists of law enforcement officers as defined in their state, county, city or town within the region of the states of New England. The Society also has associate memberships that consist of any person who has worked in or is interested in promoting law enforcement or related fields. The goal of the Society is to establish a network and bring together the Asian American Brothers and Sisters of the various law enforcement entities within New England.
Three individuals were recognized and honored that evening as well at the event. Past Jade Society President/Massachusetts State Police Lieutenant Warren Yee, Associate Jade Society member Co-Publisher The Somerville News/Publisher Boston News Group Billy Tauro, and Director of Taipei Economic and Cultural Office of Boston Anne Hung were all three recognized and presented awards that evening by Jade Society President Theodore Woo and the Benevolent Jade Society for their many years of community service to make neighborhoods in and around Boston Chinatown a better place to live.
To learn more about the Benevolent Jade Society of New England visit their website: http://www.jadesociety.com/web/