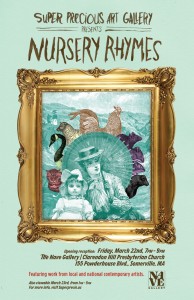 The Nave Gallery (Somerville, MA) will host a group exhibition on March 22nd and 23rd at its main gallery space in Teele Square. Featuring over a dozen local and national artists from the Super Precious Art Gallery, Nursery Rhymes asks artists to create poster print illustrations inspired by their favorite nursery rhymes from childhood.
Nursery Rhymes have gone from early educational rhymes to sing songy lullabies in their history, but show curator Aaron Cohen says they also "have a darker edge perfect for exploration and exploitation by an artist."
"Ring Around the Rosie," Cohen states, "Is a rhyme about the plague. And it's a beloved children's lullaby, you can't get much darker than that."
 An opening reception will take place Friday, March 22, 2013, 7:00 pm – 9:00 pm. 
More information about the show can be found here: http://superprecio.us/post/44723043683/the-first-nursery-rhymes-were-lullabies-sung-to
And guests may RSVP at the Facebook page here: http://www.facebook.com/events/231502566974988/
Nave Gallery (Teele Square)
155 Powderhouse Blvd
Somerville, MA 02144

Exhibition Dates and Hours:
March 22-23, 2013
Friday, 7-9 P; Saturday, 1-5 PM
——
ABOUT SUPER PRECIOUS ART GALLERY
Super Precious Art Gallery presents regular group shows around a specific theme, from 20th Century American Writers to Propaganda for Non-Politicians to the New Year's Resolutions of a favorite character. The art is created by a group of talented artists from around the country, and is generally presented as a poster print. Super Precious Art Gallery currently resides online only at http://superprecio.us, but celebrates each opening with a pop up gallery night at bars, coffee shops, and art spaces around Boston.