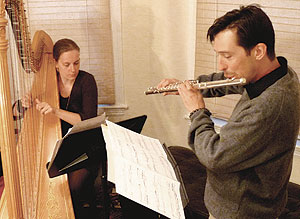 On the evening of Thursday, Feb. 28, Ensemble 451 will continue its season presenting music by Mozart and Liebermann, and featuring the music of Boston composer Mark Berger; and you are welcome to have a drink or eat a pastry while you enjoy these masterpieces.
Somerville's own classical music ensemble, Ensemble451 continues its season at the Café at the Armory in Somerville, where they have already presented number of concerts, including a tribute to John Cage featuring his works and video interviews. The choice of the venue is in line with their mission to celebrate live music by connecting to audiences in a very informal and relaxed atmosphere, such as a cafe.
This concert revolves around music for flute and strings, and it centers around "Spell," Mark Berger's flute quartet.  Written in 2009, the work is an impressive work which requires virtuosistic playing from all the players, set within a clever orchestration.  Two Mozart flute quartet will provide a historical context for this combination, with a flashy interlude: Lowell Liebermann's Sonata for flute and harp.
During its season, Ensemble 451 also hosts other groups such as "Meguri," a multimedia flute duo which introduces the contemporary music of Asian composers through prerecorded interviews and multimedia works.  Future guests include the Libella Vocal Quartet.
Tickets are available in advanced at Brown Paper Tickets, or at the door at the Café at the Armory, 191 Highland Ave, Somerville.
For more information about this and future concerts, please visit http://ensemble451.org/