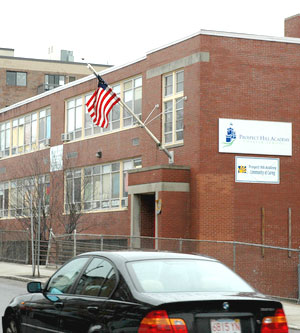 By Mike Stoller
He's been coaching for almost a quarter of a decade, but Prospect Hill Academy girls basketball coach Brian Harris says he's still learning about what it takes to win with his squad this season, even though the Wizards have posted a terrific 9-3 record overall and 7-3 in the Massachusetts Charter School Athletic Organization (MASAO).
In his first year with the Wizards, Harris, the former longtime girls hoops coach at Somerville High, is leading a talented juggernaut that's so youthful it's still trying to break out of its offensive-minded only mentality.
"I need them to think about defense, too. We have a young team, and they're coming in straight from the playground games they're used to," Harris said of his younger players, referring to the offensive-style of basketball mostly played in outdoor recreational games.
Along with that comes, dare we say it, a bit of ball hogging. The coach thinks his team could win the league title if it distributed the ball more. He is humorous in his take when he notes how his young standouts think about just shooting the ball and playing every minute possible.
Said Harris, "I've said to my other coaches, 'Do you think if they had five fouls (the number needed to foul out) they would leave the court?'"
But, joking aside, the Wizards have done darn well this winter. Until last week's loss to undefeated Kipp Academy, of Lynn, Prospect Hill was in third place in the MASAO.  The defeat cost the Wizards a little in the standings, but they're still well within the top 8 among 14 teams that will make the postseason. The Wizards figure if they win at least two of their remaining four games, they'll be in good shape. Prospect Hill will start that stretch tonight against visiting Boston Preparatory.
The Wizards are led by their two senior captains, Nehemie Jones and Aaliyah Mercer.
Mercer, a power forward, averages seven points and nine rebounds a game. At 5-foot-9, she takes advantage of her height. "She just plows through everyone," Harris praised.
Jones, who is more of a small forward, has shined on defense along with fellow senior Adel Andemeskel, who plays guard. Both are often assigned to cover the top scorer on the opposing team, and "they both run like deer," Harris said.
The team's other power forward, junior Hannah Eyob, has excelled on both ends of the court. Eyob averages 8.5 points and 11 rebounds a game. She also extends her 5-foot-10 frame to block three shots per contest.
Meanwhile, a pair of eighth graders, Lara Matos and Agar Felix, leads the team in scoring. Matos averages 14 points a game, with her season-high at 29. She also contributes five assists and six steals per contest. Felix averages 11 points a game. Her best mark this season was 27.
Also contributing is sophomore forward Kamilyah Ambroise, who Harris lauded as the "most athletic" player of the group. Ambroise is second on the team in steals, averaging five swipes a game.
"They're hardworking kids," Harris said of his entire squad. "We're still learning. I'm learning."