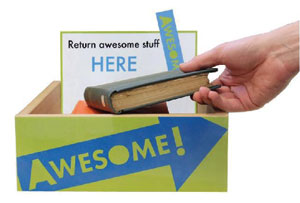 The Somerville Public Library is doing something no other public library has done before. In a partnership with the Harvard Library Innovation Lab, the SPL is the first public library to have an "Awesome Box."
Awesome Boxes are located near the regular return area in each library. If you have particularly enjoyed a book, CD, movie, or any other item, you can return that item to the Awesome Box and it will then be listed on the library's Awesome Box page (http://somerville.awesomebox.io/).
If something on the page interests you, click on the item and the site will send you to the Library's catalog, where you can read more about the item, find out if it's currently available, and place a hold on it. So library users can share what they find interesting and discover what their neighbors enjoy.