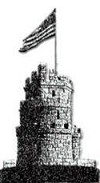 So, we did it again. Faced another ravaging blast from nature's mighty wrath and we live to fight – and shovel – another day.
And knowing that which doesn't kill us makes us stronger, we feel all the stronger for having gone through it. Just a little sore and tuckered out for the time being.
While we fought our own small battles in our walkways, driveways, and curbsides, the city as a whole took on one of the toughest snow clearing tasks in recent memory.
Tireless hordes of city workers and independent contractors worked on through the weekend and beyond, helping to get our community back to some viable state of functionality. The DPW, headed by Commissioner Stan Koty, worked hard and did a great job clearing the streets.
It wasn't perfect. Some areas received much attention while others waited patiently to be dug out of the freezing slush. Ultimately, the city as a whole has come through it all relatively unscathed.
Yes, there is still a lot of the white stuff to be cleared, and quite a bit of it lays piled up waiting for its uncertain fate. And the prospects for even more snowfall soon are a better-than-even probability.
So, it's far from over. Still, after all is said and done, we know that we can get through these kinds of things. It may not be easy, and we have the backaches and blisters to prove it. But we are all the stronger.