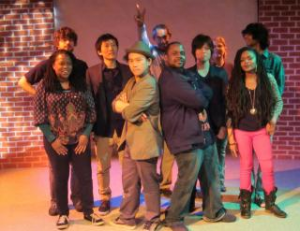 The 2013 SCATV Annual Meeting and Award Ceremony will take place on Thursday, January 24 at 7:00pm in the SCATV studio in Union Square, and will be cablecast live on Channel 3. The Annual Meeting will begin with comments from U.S. Representative Michael Capuano, Senator Pat Jehlen, and Representative Denise Provost, followed by short reports from SCATV Board of Directors and staff. Clips of some of the year's best programs will be included, as well as awards for Volunteers of the Year.

Immediately following the meeting, Greater Somerville Producer Joe Lynch will host the 2013 Program Award Ceremony. There will be awards given for six categories of programs. Awards will go to the best HotSet Show, Best Show Host, Best Youth Program, Best Radio Program, Best Informational Program, and Best Entertainment Program. If you can't be there, watch the goings-on live on Channel 3.
All attendees will be entered into a free raffle for prizes that include restaurant gift certificates and a Roku Streaming Player.
If you are a resident of Somerville and want to join SCATV, now is the time. In anticipation of SCATV's 30th anniversary, new members can join for a reduced rate of $30/year. The offer lasts until March 30, 2013. We call it the 30/30/30 offer.
For more information about SCATV or the Annual Meeting and Award Ceremony, visit www.access-scat.org, or call 617-628-8826.