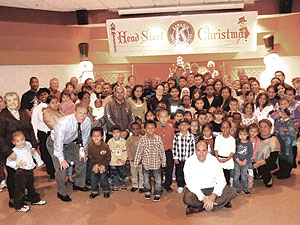 The Kiwanis Club of Somerville recently hosted its Annual Head Start Children's Holiday Party at The City Club. Sixty-one children from the Somerville Head Start pre-school program attended along with their parents, teachers and administrators. Somerville Kiwanians sponsored the children by purchasing Christmas gifts for each. Pizza was supplied by Mama Gina's of Union Square. The hall was donated by The City Club.
Kiwanian Jim Bowdring of Superior Promotions organized and emceed the program and did a fantastic job entertaining the children while they awaited Santa Claus' arrival. Jim had everyone singing Christmas carols – not a shy kid in the house! Once Santa arrived the room came alive with excitement. Each and every child had the opportunity to sit on Santa's lap and receive their Christmas gift.
According to Somerville Kiwanis Club President Isaac Machado, "This is one of our favorite programs of the year."  Other community services supported by the Somerville Kiwanis Club include Reading is Fundamental, Thanksgiving Dinner for Seniors, Bike Safety Day, Summer Camperships at the YMCA, Historical Perspectives in the elementary schools, and college scholarship funds for Somerville High School students.
The Somerville Kiwanis Club has sixty-one members, all active participants in the Somerville community.   The Club meets weekly, every Thursday at 12:15 p.m. at the Mt. Vernon Restaurant on lower Broadway. The Club is in the midst of its Annual Appeal where 100% of funds donated are used for Somerville community programs. Donations to support these programs are appreciated, for information please go to: www.somervillekiwanis.org.