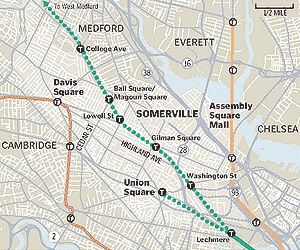 By Max Sullivan
Extension of Somerville's Green Line was officially announced Tuesday afternoon as Governor Deval Patrick, Somerville Mayor Joesph Curtatone and other Boston and Massachussetts officials took the podium in support of the new project.
The project, expected to be completed by 2017 and costing $12.9 million, will extend Somerville's Green line to Union Square and into Medford Hillside. It will involve the reconstruction of the Harvard St. railroad bridge in Medford and the Medford St. railroad bridge in Somerville, as well as the demolition of the building currently at 21 Water St. in East Cambridge to include an extension off of Lechmere Station.
Governor Patrick was greeted by a round of applause a little before 2:00 p.m. from a small crowd of roughly fifty people in the parking lot behind Target in Somerville, the podium placed fittingly in front of the MBTA's railroad tracks that run through Somerville as its backdrop.
Governor Patrick spoke of the importance of transportation to a city's economy.
"Transportation is always about economic growth. Not only does a reliable mass transportation system take cars off the road, it gets people to work, and makes whole neighborhoods accessible," Patrick said. "Scores of families and young people have made the communities of Somerville and Cambridge and Medford their home, knowing this project is on the way."
"Green Line extension means job opportunity, housing opportunity, and recreational opportunity," Patrick continued. "This project is about more than transportation. It's about opportunity."
Somerville Mayor Curtatone opened the event by emphasizing the importance of the day's event as being "as momentous and transforming as any in the history of our great city."
Patrick and Curtatone insisted that the beginning of this project, which supporters have been awaiting for the past 20 years, is a victory for the big picture plan that Patrick and other members of the left have for Massachusetts. While opposition to the project insist that it is unwise to spend money on the Green Line extension considering the current economic state, the governor and mayor stated that this kind of aggressive spending will prove fruitful for these Boston suburbs in the long run.
"Of course there are naysayers, there always are," Patrick said. "They say we should stop trying to extend the Green Line, shrink government, cut taxes, crush unions, and wait. All will be well. Even though that strategy has been disproved by history time after time."
"The nay-sayers are focused on short term," Patrick continued. "We need to be focused on longterm opportunity."
"At a time of continuous debate about how best to foster a sustainable economic future for our commonwealth," Curtatone said, "This event underscores the crucial importance of public investment and public leadership in leveraging and enabling private investment."
Alberto Cabre and Angelina Jockovich, owners of the restaurant Casa B, took the podium last to share their excitement for the new T stop in their neighborhood. Having recently opened their business in Union Square, they are enthralled that the extension will result in in the new station to bring the square more business.
"When we opened the restaurant a year ago, we didn't know where the Green station was going," Yagovich said. "Finally, the station is coming to Union Square. It's going to help continue developing the businesses of Somerville to make this square the best square of the city."
"You cannot have a growing and sustainable, 21st century economy," Curtatone insisted, "Without a growing and sustainable transportation system."
MassDot Secretary and CEO Richard A. Davey, Congressman Michael Capuano, Mayor Michael J. McGlynn of Medford and Mayor Henrietta Davis of Cambridge also spoke Tuesday in support of the Green Line extension.