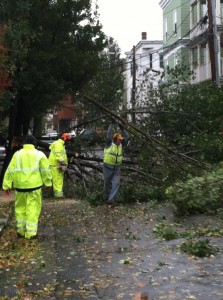 The communities of Somerville, Massachusetts, Somerville, New Jersey, and Summerville, South Carolina are joining forces this month to support victims of Hurricane Sandy along the Jersey Shore, in an effort coordinated by Somerville, NJ Mayor Brian Gallagher.  With supplies from around the nation already reaching the Shore over the past several weeks, efforts are being redoubled by the Somer/Summervilles in advance of the holiday season, and to address changing needs as residents begin to clean up and reoccupy homes.
In Somerville, MA, the donation drive will begin Monday, December 10 and last through Friday, December 21.  Needed items are:  canned, non-perishable foods; household [cleaning] products; toiletries; baby items such as wipes and diapers; hygiene items; and pet food.  Please, no clothes.
Donation locations are as follows:
Somerville Police Department(s):
Main Station:  220 Washington Street
East Substation:  81 Broadway
West Substation: 1114 Broadway
Somerville Public Libraries:
Main Branch:  79 Highland Ave.
West Branch:  40 College Ave.
East Branch:  115 Broadway
For hours of operation: www.somervillepubliclibrary.org 
Somerville Council on Aging:  167 Holland St.
"Hurricane Sandy was a devastating storm for so many communities along the east coast, particularly along the New Jersey coastline, and in its immediate wake so many residents and employees in our community were eager to help.  In speaking with Mayor Gallagher from Somerville, New Jersey, it was clear that there was a very specific need for supplies, and that we could be helpful in the weeks and months to come," said Mayor Curtatone.  "In the midst of the holidays, as many of us prepare our homes and purchase gifts for our loved ones, it's important that we remember how many people are left without shelter, food, and so many other items this year.  Please consider joining me in making even a small donation to victims of Hurricane Sandy, and help us make a difference in the lives of others this Christmas."
Supplies will be delivered to Somerville, NJ on Saturday, December 22 by a delegation from Somerville, MA, and will then be distributed to residents along the Jersey Shore as necessary.
Additional holiday drives ongoing in the City of Somerville, MA include the annual Toys for Local Children drive coordinated by the Somerville Council on Aging.  Donation boxes for new, unwrapped toys are available at all municipal buildings, and will be distributed to children in Somerville families for the holiday season.