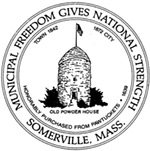 Mayor Joseph A. Curtatone welcomes John P. "Skip" Bandini to the City of Somerville to serve as the Director of Capital Projects and Planning.  Mr. Bandini officially assumed the position on November 20. He holds a B.S. in Engineering from Massachusetts Maritime Academy, and most recently served as the Director of Facilities for the Waltham Public Schools, a post he held for the past ten years.  He also holds Certifications from Northeastern University and Peterson School of Steam Engineering.  Skip brings to the City 25 years experience in engineering, planning, and issues pertaining to the Americans with Disabilities Act (ADA). He is also a Massachusetts Certified Public Purchasing Officer (MCPPO), a Certified Facilities Administrator (CFA), and a Certified Plant Engineer (CPE), and maintains affiliations with numerous local committees and associations.
"I'm excited to welcome Skip to our team, and for the wealth of knowledge and experience he will bring to this position," said Mayor Curtatone.  "With our recently developed Capital Plan, and the impending creation of a 10-year ADA Transition Plan, Skip's expertise in these areas and his experience in having managed similar plans for several municipalities will make him an asset to our community."
"It is with great pleasure that I accept the position of Director of Capital Projects and Planning within the City of Somerville. Mayor Curtatone's vision of Somerville since November, 2003, has been witnessed nation-wide and the city continues to attract professionals with expertise in various fields to continue the vision of the Mayor," said Bandini.   "The vision of the Mayor regarding Capital Projects is a vision of total quality management and setting building construction standards for sustainable building design. We look forward to this challenge and are eager to create and support the City of Somerville's long term capital improvement plan."
In addition to his most recent position with the Waltham Public Schools, Skip has served as the Director of Public Facilities for the Towns of Bedford and Reading, and their Public Schools. Skip cites some of his major career accomplishments as identifying $5 million in savings through energy and cost saving projects; development of a six-year capital plan; familiarity and experience with bid processes;
Also joining the city this week is Community Engagement Specialist, Meghann Ackerman. Meghann joins the city after serving for the past two years as the Director of Constituent Services in the office of Salem Mayor, Kim Driscoll. Meghann is also a former reporter for the Somerville Journal, among other local media. The Community Engagement Specialist will work with ResiStat, SomerStat and the Office of Communications. The position was created during the FY 2014 budget process.