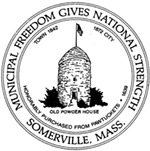 City seeks public input at November 28, 29 meetings for Gilman, Magoun and Ball Square GLX station planning
The final two planning sessions of the city's new "Somerville by Design" initiative – which will assist in the implementation of urban design and land use goals of the SomerVision Comprehensive Plan – will be held on Wednesday, November 28 and Thursday, November 29 at the Center for Arts at the Armory at 191 Highland Ave.  Somerville by Design is the City of Somerville's latest community planning initiative, designed to help residents and business owners visualize positive change in their neighborhoods.  SomerVision and Somerville by Design are results of funding through a Challenge Grant from the US Department of Housing and Urban Development's Sustainable Communities Program.
Community members are invited to attend any or all of a series of events, as follows:
Wednesday, November 28:  Open Studio, 11:00am – 2:00pm
Wednesday, November 28:  Public Meeting, 6:30pm – 8:30pm
Thursday, November 29:  Open Studio, 11:00am – 2:00pm
Thursday, November 29:  Art Gallery, 4:30pm – 8:30pm
A project schedule and materials are available on the City's website at www.somervillema.gov/bydesign.