In the aftermath of Hurricane Sandy, City officials – DPW, Police, Fire, and school officials – continue the cleanup efforts throughout the City of Somerville.  The storm, which included winds in excess of 70 miles per hour over a twelve-hour period,  inflicted  uprooted and fallen trees, downed power lines and other reported electrical outages, and some significant damage to municipal, school, and residential buildings.  Roof damage was reported at several residences, as well as City Hall, and significant roof damage was discovered late Monday evening at Somerville High School, closing the auditorium until further notice.  Though no serious injuries were reported in Somerville, more than ten homes were evacuated Monday afternoon on Browning Road due to uprooted trees threatening gas lines.  No gas main was ruptured, and residents who had been displaced have since returned to their homes. 
"We anticipated an intense and slow-moving storm packing high wind, and Hurricane Sandy definitely delivered," said Mayor Joseph A. Curtatone.  "I want to thank the City crews from every department who have worked around the clock since late last week, both to prepare our city for the storm, and to deal with issues in real time throughout the day on Monday.  And I want to thank residents for being our eyes on the streets and in the neighborhoods.  Your vigilance, particularly those who assisted us by calling into 311 and posting to our various social media feeds, greatly supported our efforts in ensuring swift and safe cleanup."
"Over the next several days these crews will continue to work to get all buildings back to full operations, and to ensure roadways are clear and power lines made safe.  In addition, once we've fully assessed the damage and the steps we need to take to recover fully, we will be seeking assistance funds as is consistent with damage created in a State of Emergency," Mayor Curtatone said.
Preliminary assessment shows that at the peak of the storm, just over 1,600 power outages were reported, accounting for approximately 4% of NStar subscribers in Somerville, though the average throughout Monday lingered around a 1% reported outage.  Since Monday morning, more than 200 downed trees were reported via 311 and, according to initial data, the 311 representatives handled almost 10 times the number of average calls for a Monday (a total of 1,268 calls were logged Monday).  Preliminary data also shows that the Somerville Fire Department responded to approximately 180 storm-related calls Monday.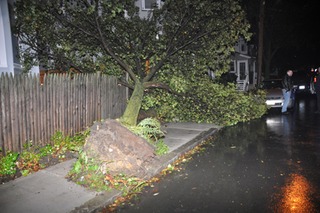 ~Photos courtesy of the City of Somerville