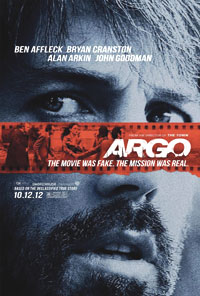 Review by Maria A. Cortes
Many actors try themselves as writers or directors nowadays. However, it is quite rare to find a good combination of both. Ben Affleck, who directed a new movie Argo and also starred in it as a lead, is a surprising exception. Loosely based on true events, Argo brings the audacious pages of American and international history to the Somerville Theatre.
During the Iranian revolution in 1979, the U.S. Embassy in Tehran is being taken over by Islamic militants. The embassy's workers, dazed as they see protesters breaking through the gates, rush to destroy all the classified documents. Tear gas cannot stop hundreds of armed demonstrators. As over fifty Americans are being taken as hostages, a group of six escapes and finds refuge in the home of the Canadian ambassador (Victor Garber).
The matter of rescuing them quickly gains its importance: not only the lives of American citizens, but also of Canadians are at stake. If found, "they die badly," explains Jack O'Donnell (Bryan Cranston) to his CIA colleague, Tony Mendez (Ben Affleck). The State Department suggests providing the six with maps and bicycles, so they can reach the Turkish border, even though it is four hundred miles away. However, ex-filtration specialist Mendez knows better. He comes up with "the best bad idea." Absurd yet brilliant: provide the six Americans with fake identities of the Canadian film crew, pretend that they are looking for a location to shoot a movie, and fly back home in two days.
Seemingly impossible when said, could it actually be done? To make it work, Mendez takes a trip to Hollywood. With the help of a make-up artist John Chambers (John Goodman) and eccentric producer Lester Siegel (Alan Arkin), he picks out a script entitled "Argo," sets up a fake film studio and starts publicity campaign for the new "movie." A trip to Iran follows shortly. Revolutionary Tehran greets Tony with gun shots drowned out in the loud protests and scenes of people hanged on construction cranes. Will Tony Mendez be able to get six Americans through the airport security with the guards watching their every step? Will the six scared people be able to convince Islamic soldiers that they are not who they really are?
With Gone Baby Gone and The Town under his belt, Ben Affleck is establishing himself as a director who has a solid point of view on how things should be done. And there is no doubt that he has done his job skillfully enough in Argo. His nervous camera is a perfect tool to register revolutionary demonstrations and the feelings of desperation and fear spreading over the country. The color palette, characters' appearances with overgrown moustaches, and peculiar large framed glasses reflect the chosen time period perfectly. It is notable how overall historically accurate the movie is. Real pictures of revolutionary events in Tehran, the U.S. Embassy, and rescued Americans shown at the end, reveal that Affleck was able to recreate the events with masterful precision. He also handled the hard task of converting historical information into visual, and moreover, a visually intriguing story, with professionalism, using animation with narrative embedded in the film context. In other words, the way the story was presented qualifies Argo as a legitimate movie. The story itself doesn't.
Spiced up with some dark humor and satire on Hollywood, the story lacks smoothness and "sharpness." Dialogs produced by the screenwriter Chris Terrio seem forced at places and are full of repetitions. Plot twists that are meant to bring some suspense to the audience resolve just about the time we could have gotten some shivering down the spine. As the story slowly takes off, prepare to get bored until the last twenty minutes. Those minutes will certainly make your palms sweaty.
Despite the story flaws, it seems that Affleck's efforts should be praised and, satire forgiven, for the true heroes that are revealed at the end. As the credits roll, the two-hour Argo would seem as if it was absolutely worth watching.
Argo: directed by Ben Affleck. Starring Ben Affleck, Brian Cranston, Alan Arkin, John Goodman, Victor Garber. Rated R. Shows at the Somerville Theatre (55 Davis Sq, Somerville, MA 02144). For information about tickets, please visit somervilletheatreonline.com.