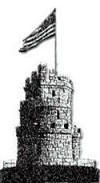 How cool is Somerville? Really, now. We ask you.
Not only was the ultimate Halloween song, Monster Mash, composed and performed by a native son, but many other illustrious personages have emerged from within our relatively diminutive borders to strike out and touch the world with their talent and ingenuity.
Writers, artists, athletes, politicians…name the profession and so many well known names can be dropped without a moment's hesitation. Names of men and women who have gone forth and shaken the world, making it aware that the place where they came from has a remarkable track record when it comes to producing outstanding examples of the human species.
Hyperbole aside, we wonder why it is that we seem to be blessed with an inordinately large number of success stories throughout our city's history.
Any given community has its winners and its losers, as well as those who dwell in between. Are we being vain and narcissistic when we speak of having an abundance of success stories to gloat over? Are we somehow fooling ourselves into believing an embarrassing myth of superiority about this?
It's hard to be completely objective when it comes to taking pride in something so beloved as one's hometown and its community spirit.
Maybe it's that spirit that matters the most. Maybe so.