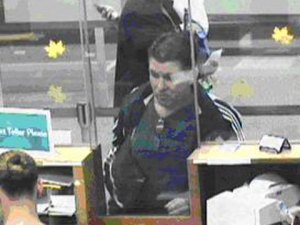 Somerville Police and the FBI Violent Crimes Task Force are seeking to identify and locate the suspect depicted above. At about 11:20 a.m. on Saturday, October 13, the suspect shown above robbed the Union Square branch of Citizens Bank.  The suspected passed a note to the teller, demanding cash and stating that he had a gun.  The suspect fled through the rear exit of the bank with an undisclosed amount of cash.
The suspect is described as a white male, late 30s to mid 40s in age, about 5 feet-06 inches to 5 feet-08 inches tall, medium build, short brown hair and was wearing a black and white striped Adidas jacket and had sunglasses hanging from his dark shirt.  He also wore jeans and white sneakers.
Anyone with information is asked to contact Somerville Police at 617 625-1212 or the FBI at 617 742-5533.  You can also send an anonymous text to Tip411 (include 617SPD along with the crime tip).