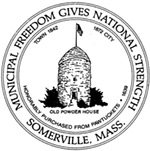 Mayor Joseph A. Curtatone and the Somerville Housing Division invite all interested community members to a Senior Housing Symposium on Thursday, October 18 to discuss the needs and opportunities for Senior Housing in Somerville.  The symposium will be held from 6– 8 p.m. at the Visiting Nurse Association Assisted Living Community at 405 Alewife Brook Parkway.  Topics will include results from the Senior Housing Survey completed last year, an overview of current senior housing opportunities in Somerville, the response of Somerville agencies and partners to senior housing needs and a discussion of senior housing design along a continuum of care, from independent living to shared housing to assisted living.  Participants are also invited to come between 5 and 6 p.m. for tours of the recently completed VNA Assisted Living Facility and receive information on senior services currently available in Somerville.
"Based on the results of the Senior Housing Survey we conducted, we know that Somerville has an aging population," said Dana LeWinter, Director of the City's Housing Division.  "What struck us was the fact that most seniors want to remain in Somerville as they age, but are concerned about how they will be able to do so, given the older housing stock, fixed incomes and changing needs.
The symposium will also feature a keynote speech by Ann Bookman, Ph.D., of the Heller School at Brandeis University, who will address  national trends and organizational models for senior housing, including co-housing, as well as the shifting of the needs of an aging population.  A panel of senior housing experts will include:  Susann Wilkinson of Staying Put Somerville, Paul Mackey of the Somerville Housing Authority, Linda Cornell of the Visiting Nurse Association, Cindy Hickey of the Council on Aging, and Dan Bartman of the City of Somerville Office of Strategic Planning and Community Development.
"We hope that this Senior Housing Symposium will provide an opportunity to launch a serious discussion about what opportunities exist and how to overcome the challenges we have identified to ensuring that all seniors who want to live in Somerville have the ability to do so," said LeWinter.
The event is free and open to the public, but space is limited, so please RSVP to Dana LeWinter at 617-625-6600 ext. 2577 or dlewinter@somervillema.gov.  Translation services will be available, and refreshments will be served.