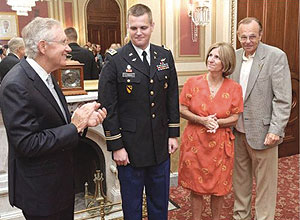 Nevada Senator Harry Reid  took part in the promotion ceremony of his former military fellow, Army Major Michael K. Lynch. Senator Reid was joined by Major Lynch's parents, Joseph and Joan Lynch of Dracut, Massachusetts, and other former military fellows. "I am honored to have a military fellow work in my office each year, and Mike Lynch, a former fellow, served with great distinction," said Reid. "Major Lynch has exhibited qualities of bravery and honor and I have no doubt that he will be an effective leader in the United States Army for years to come."
A native of Massachusetts, Major Lynch was commissioned an Army officer in 2002 and became a helicopter pilot.  He spent four years at Fort Hood, Texas, where he flew Black Hawk helicopters, deploying to Iraq twice in support of combat operations. He also flew helicopter evacuation missions in New Orleans after Hurricane Katrina and numerous firefighting missions in Texas. Upon being transferred to Washington, D.C., Major Lynch commanded the Army's Executive Helicopter Company before being selected to serve as a Military Legislative Fellow for Senator Reid.  Major Lynch now serves as an Army Liaison to the United States Senate, as well as a White House Social Aide.
Lynch is the grandson of the late Ward Four Alderman Alexander J. "Pat" Lynch and the Late Somerville firefighter Richard "Dick" MacKenzie. Lynch's parents grew up in Somerville and many of his relatives live here now.