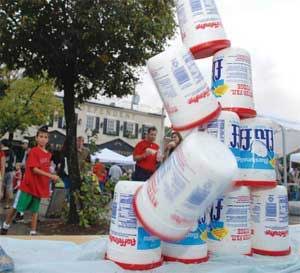 Fluff Festival in Union Square Saturday, September 29
On Saturday, September 29, beginning at 1 p.m, Somerville Avenue in Union Square will be closed from Webster Avenue to  Prospect Street to accommodate the annual "Fluff Festival" which will run from 3 p.m. to 7 p.m. For public safety reasons and in anticipation of an influx of  visitors, no vehicle traffic will be allowed along Somerville Avenue in this area. Traffic will be detoured up Webster Avenue and Prospect Street, which  will both be converted temporarily into two-way streets to alleviate congestion. Buses in this area will be rerouted between 1 p.m. and 8 pm.  and motorists not  attending the Festival should use alternative routes, if possible.
Police details will be stationed in these areas to assist with traffic and pedestrian flow: motorists are reminded to follow all posted signage and detours.  Roadways will reopen at approximately 8 p.m.,  for  additional information, please call 311. And may the Fluff be with you.