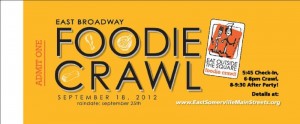 Due to the forecast of rain today the Foodie Crawl has been moved to September 25.
Volunteer & Support the Date Move – As the date change is causing them  to lose some volunteers, please let them know if you can help – email: projectassistant@eastsomervillemainstreets.org
Tickets are still available here
Tickets are also available in person at the following locations:
Mudflat Studio (81 Broadway) –    Vinny's (76 Broadway)   –   Taco Loco (44 Broadway)  –
Sullivan Square Liquors (30 Broadway)  –  D-Squared (Davis Square)
Event Details:
6-8 pm – Foodie Crawl is on
Visit 12+ participating restaurants to taste your way around the world!
There will be an information desk in front of the Library (115 Broadway),
so feel free to stop by with any questions!
8 -9:30pm – Dessert and After party!
at Vinny's (76 Broadway),      Fasika (147 Broadway),     and Casey's (173 Broadway)!
Desserts from Patsy's Pastry and Boston Cookies will be served while you listen to Live Music!
Other Information:
_________________________________________________________________________________
Vegetarian options will be available at each location.
Parking:
Street Parking is available along Broadway, AND Patrons are strongly encouraged to use public transportation.