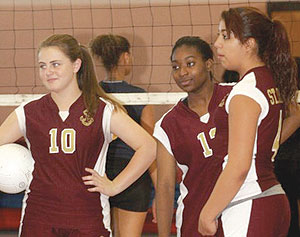 Volleyball
The Lady Anchors started their season with a 1-2 record loosing 2-3 against league Marian Mustangs of Framingham. Senior Kristina Ofoedue (Methuen) lead the effort against Marian with 6 kills and 3 blocks, but the Lady Anchors came up short in the last match loosing by 2 points. The team captured their first win of the year against the Cathedral Panthers going 3-0. Senior Allison Caloggero (Medford) had 9 service points, 5 aces and 3 assists. While freshman Katie Monestime (Somerville) lead the team with 12 service points, 3 aces and 4 assists. The team is off to a disappointing start after finishing second in the Catholic Central League last year and making it to the Division 3 semi finals with no graduating seniors. The team looks forward to regrouping and facing the Pope John of Everett and Mt. Saint Joseph Academy this week.
Football
The St. Clement Anchormen anchored their first win of the year beating Keefe Tech of Framingham 19-12 at Hormel Stadium on Friday, September 7. After a scoreless first quarter the game was delayed two hours due to heavy rain and lightening. The Anchormen dominated in the second quarter as Junior Oyaronbi (Chelsea) caught 60 yard TD pass from Jamey Thompson (Somerville). Andrew Carvahlo (Somerville) kicked the extra points. Alberto Lopez (Charlestown) added to the score with a 22 yard TD pass from Thompson making the score 13- 0 at the half. During the second half, Keefe Tech battled back bring the score 13-12 by capitalizing on costly penalties and missed St Clement opportunities. The Anchormen defense lead by Paul Catalano (Roslindale) and John Posada (Charlestown) held Keefe tech leading the Anchormen to a 9-12 victory. The Anchormen will prepare this week to face Old Colony Technical School away on Saturday, September 15 at 1 p.m.
St. Clement Skills and Drills Clinic
St. Clement School is offering a skills and drills basketball clinic for boys and girls ages 9 thru 14 on Sunday, September 16, 23, 30 and Sunday Oct. 7, 14, 21, at Saint School Gymnasium, 579 Boston Avenue, Medford, MA. Area coaches will teach kids the proper skills on how to ball handle, shoot, pass and play defense. Cost for the program is $50.00 and includes a t-shirt. For more information and times, please call the Athletic Director, Ryan Murphy, at 339.221.1006 or email him at Ryanmuph3@aol.com.