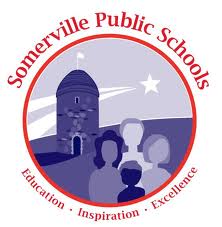 Somerville High School Headmaster John Oteri finalized his school leadership team in recent weeks with the hiring of three new Department Heads as final preparations for the start of the 2012-2013 school year are under way.  Karen Woods (Science), Jim Nocito (World Languages) and Jodi Remington (English) join the SHS leadership team as Department Heads.
"There's a lot of excitement heading into the 2012-2013 school year. Jim, Jodi and Karen round out a dynamic leadership team that is poised to continue propelling our school forward, and challenge teachers and students to maximize their potential," stated Mr. Oteri.  "Karen has exemplified the concepts of teamwork and student-centered educational leadership throughout her time as an educator at Somerville High. I look forward to working with her as she takes the helm of a really innovative Science program.  James and Jodi bring a great deal of experience and strong leadership skills.  I am excited to have them be part of our instructional leadership team, and to support them as they continue to strengthen our World Languages and English departments."
Ms. Woods has been a Science Teacher at SHS since 2005, where she has taught Biology (grades 9-11), Honors Biology (9), Pre-Biology (9), and ELL Biology (9-12). She was awarded the 2011 "Class Nobel Educator of Distinction for Excellence in Teaching" award by the National Society of High School Scholars, and was honored as the "Exemplary Teacher of the Year" by the North Shore Science Supervisors Association in 2007.  Ms. Woods was also the summer Program Coordinator for the Collaborative Program for Student Success (CPSS), a summer transition program for incoming high school freshmen.
Ms. Woods has also been active as an SHS Extra-Curricular Activities Advisor.  She was Instructor of the Dance Club, Dance Team and Color Guard since 2006; Director and Choreographer of the school's annual musical production (2006-2011); and Advisor to the Class of 2010 (2006-2010).  Her professional leadership experience includes serving on the DESE's Biology MCAS Assessment Development Committee since 2009, and serving as District Representative on the Boston University School of Education Consortium since 2008.  She is a member of:  the Association for Supervision and Curriculum Development (ASCD), Massachusetts Science Education Leadership Association (MSELA), National Science Education Leadership Association (NSELA), North Shore Science Supervisors Association (NSSSA), and National Science Teachers Association (NSTA). Ms. Woods holds a Master of Education, Science Education from Northeastern University, where she earned the Academic Excellence Award for having the Highest Quality Point Average.  She is also a Boston University graduate, earning a Bachelor of Arts cum laude, Biology and a Bachelor of Science cum laude, Science Education.  In 2012, she earned a Certificate of Advanced Graduate Studies, Educational Leadership from Simmons College.
Jim Nocito joins the Somerville High School leadership staff after 11 years at Lexington High School where he served in a number of teaching and administrative positions.  He was a member of the Lexington Foreign Language department's hiring committee for 10 years, was on the District's Anti-Bullying Committee, was co-chair of the Attendance Review Committee, and served as Acting Dean of Students in 2004.  He taught all levels of Spanish at Lexington and wrote the curriculum for a number of Spanish courses including AP Spanish Language, Honors Spanish II, Spanish II level I, and Spanish I levels I and II.  Mr. Nocito began his career in education as Assistant Principal for two years at Mascenic Regional High School in New Ispwich, NH (1989-1991). He was an educator at Westwood High School, Framingham High School, and Andover High School before his move to Lexington. While at Andover, Mr. Nocito established "Amigos Unidos," a support group for Latino students which focused on academic achievement and upward mobility. At Framingham HS, he served on the district's World Languages Committee charged with leading the creation of a K-12 World Language Program for the Framingham Public Schools.
Mr. Nocito authored "Spanish for School Personnel," and was co-author of "Spanish for Public Safety Personnel."  He was a 2001 finalist for Massachusetts Teacher of the Year and in 2002 was inducted as a Fellow in the Teacher Leadership Academy of Massachusetts.  He earned Teacher of the Year honors at Framingham HS (1989, 1999) and Andover HS (2001).  Mr. Nocito holds Master of Arts degrees in Education (Cambridge College), Criminal Justice (Ana Maria College) and Spanish (UMass Boston).  He holds the following certifications:  Supervisor/Director of Foreign Languages (All Levels); Teacher of Spanish (5-12); and Principal/Assistant Principal (9-12, 5-8 and PreK-5).
Jodi Remington joins SHS as English Department Head following two years as Assistant Principal at Saugus High School, where her leadership experience included serving as Instructional Leader and Dean of discipline. During her two years at Saugus, Ms. Remington collaborated with department heads to align curriculum to the Common Core and implement benchmark assessments. A data-driven and results-oriented professional, Ms. Remington played a leadership role in raising the rigor and level of instruction at Saugus High.  She trained and implemented RBT data teams to improve curriculum, instruction and assessment, analyzing data from a number of sources. She also led professional development efforts, formed PLCs and modeled best practices in support of these efforts.  Ms. Remington participated in the National Institute for School Leadership (NISL) training program, and was helping lead implementation of NEASC recommendations for a two-year progress report after serving as co-chair for a 2010 NEASC Saugus school site visit.
Prior to her time at Saugus, Ms. Remington was an English Teacher at Winthrop High School for nine years where she chaired and served on numerous committees including MCAS coaching and ELA frameworks alignment. She began her career in education in 1999 as an English Teacher at Norton High School before moving on to Winthrop High School.  In addition to her teaching position at Winthrop, she also took on a two-year Administration Practicum at Winthrop from 2003 to 2005.  Ms. Remington has also served as Director of Summer Programs for the East Boston Social Centers since 2000.
A CAGS Educational Leadership graduate of Salem State College, Ms. Remington holds a Masters in Education, Educational Leadership from Salem where she has also completed the Special Education Licensure Program.  She earned her BA in English, Secondary Education from John Carroll University, and spent a semester at the University of North London in London, England.  Ms. Remington holds certifications in English (5-8, 9-12) and Principal/Assistant Principal (PK-5, 5-8, 9-12).
"These three instructional leaders join the outstanding leadership team at Somerville High School," added Superintendent Tony Pierantozzi. "It's been a busy summer for Mr. Oteri, who has worked diligently to build a leadership team that is ready to take Somerville High School to the next level. I look forward to working with Mr. Oteri and his staff as we move forward in our efforts to provide Somerville High School students with the best possible educational experience and prepare them for college and careers."