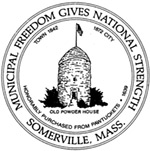 First of Four Open Streets Celebrations this Summer Begins on East Broadway with Parade, Foss Fest, "SomerPeople" Multicultural Celebration and More.
The City of Somerville kicks off its third annual SomerStreets series on Sunday, June 3 on East Broadway, in partnership with East Somerville Main Streets and FossFest for "Carnaval @ SomerStreets!"  Through SomerStreets, where "roads are closed to cars and open to you." programming will extend along East Broadway from Temple Street to Pennsylvania Ave. on Sunday, June 3 from noon – 4 p.m., including a kickoff parade at noon, live music, "SomerPeople" multicultural celebration, food, and fun.

Carnaval @ SomerStreets is the first of five 2012 SomerStreets events, the city's popular Open Streets Initiative, which closes sections of roadways one Sunday per month to promote and support active living – walking, biking, running, dancing, etc.
The Foss Fest stage at Foss Park will offer music by Christopher Jenkins, Son del Sol, All of the Animals, The Novel Ideas and Barricades, as well as activities including demos by the Open Air Circus, henna tattoo artists, craft vendors and face painters.
"SomerStreets events have become some of the most anticipated regional events, drawing an average of 6,000 people each month, and Carnval @ SomerStreets has proven one of the largest and most popular events to kick off the summer for the last several years," said Mayor Joseph A. Curtatone.  "We are fortunate to have great partners in ESMS and FossFest, and I'm looking forward to an afternoon of great food, entertainment, and fun."
"Carnaval @ SomerStreets has become a staple event for East Somerville, helping to showcase the great local businesses, restaurants, and artists that call East Somerville, and particularly East Broadway, home," said Ward 1 Alderman Bill Roche.  "I'm excited to kick off the 2012 summer season once again with a great celebration on Broadway."
"We are honored that East Somerville and Winter Hill were chosen yet again to kick off this innovative event series with the city.  Last year working together we brought out nearly 5,000 Somerville residents to enjoy food, sun, games and local culture– this year with increased community partnership we hope to break 8,000!"
The full 2012 SomerStreets schedule is:
Carnaval – Sunday, June 3 on Broadway from Temple St. to Pennsylvania Ave..
Seize the Summer – Sunday, July 29 on Highland Ave. from the Walnut St. to Cedar St.
Going Green on Rte. 16 – Sunday, August 19 on Alewife Brook Parkway from Dilboy Field to Broadway
Octoberfest – Sunday, October 28 on Somerville Ave. from Union Square to Porter Square
SomerStreets builds on the Shape Up Somerville healthy living initiative. Similar open streets events take place all around the world, providing space normally taken up by automobile traffic for people to be more active. Special attention this year is being paid to providing fresh food at all events.
All SomerStreets events will run from 12-4 p.m., rain or shine.