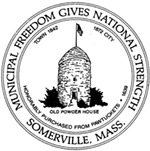 Somerville Historic Preservation Commission sponsors month-long events, culminating with annual awards ceremony honoring Somerville residents and homeowners
*
Mayor Joseph A. Curtatone and Executive Director of the Somerville Historic Preservation Commission (SHPC) Brandon Wilson announce the schedule of events for the 2012 "Preservation Month" celebrations.  Throughout the month of May, the SHPC and other local organizations partner to host numerous events honoring Somerville's history and historic districts.  Remaining events include:
Sunday, May 13, 2:00pm:  Discussion, "The Menace of the Triple Decker."   Offered by Historic Somerville, Inc., Dr. Stuart Brorson will discuss the five different architectural features of the 3D, and the social concerns that grew around this architecture in the late 1800's.   Located at the Somerville Museum, 1 Westwood Road.  Free for HS members and mothers; $8 for non-members.
Thursday, May 17, 6:00pm:  Tour of Milk Row Cemetery.                     Come find out about who is buried here, the extraordinary monument dedicated to Somerville soldiers fallen during the Civil War, and recent municipal enhancements.  Light refreshments at the end.  Located at 439 Somerville Avenue.  Rain or shine.
Sunday, May 20, 2:00pm:  Historic Bike Tour                                       "Somerville Parks, Now and Then" is sponsored in cooperation with the Somerville Bike Committee.  This year's theme will take us from one end of the City to the other, learning about Somerville's wealth of parks and what they used to be.  The guided ride, escorted by the Somerville Police, is designed for all ages and riding levels, and includes a couple of rest