By Harry Kane
Undocumented immigrants have an upward battle when it comes to becoming citizens, but on April 2 the youth advocates from a local organization for immigrant rights chalked up a victory.
In a unanimous vote among school committee members the use of the term "illegal" was deemed not appropriate to describe undocumented immigrants.
"It's one of those things that you're always constantly hearing when you're growing up and it has a negative connotation," said youth organizer for Centro Presente, Laura Gonzalez, 23, who moved to Cambridge when she was six-years-old from Colombia.
"Until you actually begin to understand what that is, a lot of the times you begin to internalize those feelings."
Gonzalez grew up in a family of undocumented immigrants. To this day, she is still vying for US citizenship.
"I can relate to a lot of the youth that come here."
For thirty-years Centro Presente has worked with the Latino community advocating for social justice.
Recently, The "Somos We Are" campaign sought to remove the negative connation associated with the word "illegal" in the attempt to rescue the humanity of the Latino community within Somerville.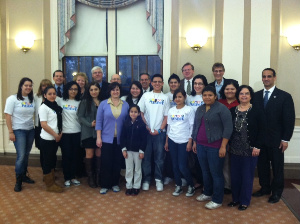 At the hearing on Monday, April 2, Somerville School Committee members listened to three youth advocates testify why the word "illegal" should be discouraged from their daily vocabulary.
Rewind to the end of last year when students associated with the "Somos We Are" initiative visited Christine Rafal, school committee member for Ward 4, to ask for help in getting their motion passed.
Rafal recalls November of 2011 when a dozen undocumented teens asked for assistance in this initiative.
"It was a very modest request," said Rafal.
Several months later a community school hearing was held at city hall to address the initiative.
Katherine Hernandez, 15, from the Winter Hill Community School was one of the undocumented students who testified on Monday.
"I had to cross a lot of borders to get here, and I hope that you will join me in crossing this one. The word 'illegal' is a barrier and tonight I ask that together we tell the city of Somerville and its schools to stop using words like illegal to describe human beings."
Distinguishing between people who are criminals and those who are undocumented was the impetus behind the testimonials.
Hernandez had looked up the word "illegal" in the dictionary and much to her dismay she found it refers to someone that is "against the law."
State Representative Denise Provost, D-Massachusetts, sees the shift in verbiage as a move in the right direction.
Provost said, "undocumented' is more accurate and less pejorative, and the word 'illegal' is misleading and disrespectful because it suggests criminal action instead of a violation of civil law."
Laura Gonzalez's opinion of the motion is a huge victory because it says that the local government cares about the youth.
"When you look at the dynamic nationally there's a huge anti-immigrant sentiment that is increasing every single day," said Gonzalez.
Currently, there are almost 24 million undocumented immigrants living in the U.S., according to a website called http://www.immigrationcounters.com
Yet, The Department of Homeland Security released their findings recently, estimating a decline in undocumented immigrants since President Obama took office in 2009.
Still, Gonzalez feels there is a new "pool of immigrants" that strives for citizenship during election season.