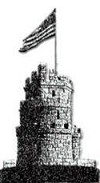 The Somerville Police Department is the latest beneficiary of Middlesex County Sheriff Peter Koutoujian's Community Work Program, whereby inmates from the Middlesex House of Correction in Billerica contribute to the clean up and restoration of public institutions such as the police station, City Hall, and Department of Public Works building.
The work crew provided lots of elbow grease as the police station was cleaned and plenty of fresh paint applied, all free of charge to the local taxpayer.
Mayor Curtatone praised the value of the program, noting the many thousands of dollars that have been saved by sparing the city the cost of bidding this work out to private contractors.
Of course, it can be argued that the city's gain can equate to the private sector's loss in terms of unsolicited jobs and services. But in these fiscally challenging times it will be difficult to criticize the worth of this program, especially when every dollar in the city's budget can be regarded as precious cargo.
Some may voice concerns that such a program constitutes the imposition of involuntary servitude upon the participating inmates. One conjures up images of Strother Martin bemoaning a "failure to communicate" ala Cool Hand Luke. But the fact is, this is hardly a modern-day chain gang in disguise. On the contrary, participating inmates seem to appreciate the opportunity to get out and work, and correctional facility professionals agree that the program helps to prepare the inmates for imminent release by getting them back into the swing of working a daily job.
It appears to be a win/win situation for all concerned.
The question now is, can the good Sheriff provide any help to the SPD for getting a win at the next Guns N' Hoses match-up?