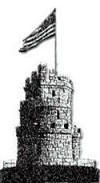 We feel a great sense of relief as severe cuts in city services were fortunately averted this past week. The city's negotiators managed to hammer out an equitable deal with the firefighters union Local 76, while assuring at the same time that many essential services and institutions would remain intact. For the time being at least.
The West Branch Library is a special place for many a Somervillien. Its doors will remain open, children will learn, and lives will be enriched by its continued existence in our midst. We are truly grateful for this.
Likewise, we are fortunate that the two police substations and fire station that were once on the block will be preserved and remain operational. These entities are essential for the safety and general well being of our community. Losing them would have marked a serious decline in the quality of life here. We are certainly grateful for their preservation.
Many jobs are likely to be saved as well as a result of the plan being forged and implemented. This could be the most important benefit of all. As the economy gradually continues to move toward recovery, we need our people at work more than ever.
We applaud the efforts and ultimate results of officials and negotiators on all sides of these issues. For now, at least, we can look forward to continuity in the services we find so important to us all.