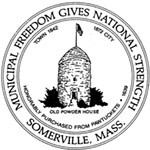 Mayor Joseph A. Curtatone and Director of the City's Housing Division, Dana LeWinter, today released the results of the 2011 Continuum of Care renewals application.  The Somerville-Arlington Continuum of Care was awarded $2,237,821 in funding from the Department of Housing and Urban Development (HUD) for homeless assistance programs.  The funding for the Somerville-Arlington Continuum has steadily increased in the last several years, with $2,235,913 awarded in 2010, $2,233,788 in 2009 and $1.9 million in 2008.  Overall this year, the Obama Administration has awarded nearly $1.47 billion in homeless assistance grants.
The grant money provides permanent and transitional housing to homeless persons, and also funds important case management and other services that can include job training, money management training, health care, mental health counseling and substance abuse treatment.  These grants are awarded competitively to local programs to meet the needs of their homeless clients.  The providers receiving funding include the Somerville Homeless Coalition, Heading Home, Just a Start Corporation, CASPAR, Wayside Youth and Family Support Network, Somerville Community Corporation, Catholic Charities and Transition House.
"We are extremely grateful to the Obama Administration for continuing to recognize the need in communities like Somerville for these funds, and we are thankful to have wonderful partners like the Somerville Homeless Coalition in order to do this necessary work to combat homelessness and housing issues in our city," said Mayor Curtatone.  "This issue is of the utmost importance to my administration, and to the community as a whole, and we will continue to work together to provide assistance for homeless individuals and families, and those living below the poverty level."
"These funds are our major source of income for agencies like ours addressing homelessness in Somerville," said Mark Alston-Follansbee, Executive Director of the Somerville Homeless Coalition.  "We should all be grateful for this support and pleased that we are successful in a very competitive national application process.  But as helpful as these funds are, they are never enough to help all of the people in need in our community.  We need to have more dialogue with federal officials about what our values are and where we want our resources to go; I pray for the day when no one will be hungry or homeless in our country."
The $2.2 million is in addition to the $1.18 million Somerville received in 2009 through the Homeless Prevention and Rapid Rehousing (HPRP) Program, a three-year grant, of which the City is currently in the final year. The HPRP Program is intended to prevent persons from falling into homelessness or to rapidly re-house them if they do.