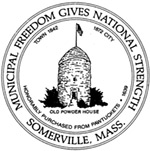 Park Cards have been in circulation since 2006; New City meters, pilot programs continue to add incentives for Park Card payment; Ad Lab campaigns will be introduced in 2012.
Mayor Joseph A. Curtatone and Director of Traffic & Parking Matt Dias announced this month a partnership at Boston University's AdLab, to work with students to create on an ongoing campaign to increase use of City-issued Park Cards.  Park Cards, in circulation since 2006, can be purchased through the City of Somerville in $20 or $50 increments, and conveniently eliminate the need to carry quarters for parking meters, as well as allowing users to recoup their money for any unused parking time.  In recent months, T&P has undergone several meter and parking kiosk pilot programs and, if implemented citywide, each device would continue to allow use of Park Cards.
"As we continue working to improve our customer service, consistent with the Mayor's commitment to provide accurate, courteous and easy customer service, the partnership with AdLab is a natural progression to help promote existing and useful technology," said Dias.  "Park Cards make parking at meters – in squares and in municipal lots – so much easier for drivers and a lot easier on your wallet.  After reviewing the product and its repayment option, we did not understand the low usage.  We know they are great; but the public does not," Dias stated.  "and that is what the students will help us with."
In advance of the campaign, the AdLab students are conducting an online survey seeking to better understand residents' parking habits and how residents received parking-related information.  The survey will be used to direct the marketing campaign, and determine which segments of the population already use and/or are familiar with the Park Card technology.
"We believe AdLab will be a great creative partner, designing a new advertising campaign that will, hopefully, educate residents and visitors about parking in Somerville's business districts," Dias said.  "The students at Boston University and AdLab have been wonderful to work with thus far, and I look forward to sharing their work with the entire community.  In the meantime, residents can learn more about AdLab by  viewing a recent segment on Chronicle, available at the following link:  http://www.thebostonchannel.com/video/28493860/detail.html."
The survey can be found in any of the following locations:
http://www.surveymonkey.com/s/8YBZWBF
Park Card can be purchased at Traffic & Parking, 133 Holland Street, for $20 or $50, and can be used at any City meter.  Cards are inserted upon parking at the meter, and drivers will receive the full allowable parking time.  At the end of the visit, cards can be reinserted to redeem any remaining time and money, to be used for future parking ventures.
For more information on the Park Card or any other City of Somerville parking policy, visit www.parksomerville.org or call 311.