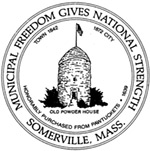 Health Department and all local pharmacies will work together to promote the City's 24/7 unwanted medication drop-off kiosks, educate residents on disposal of medications.

*
The City of Somerville's Health Department announced today that it will partner with local pharmacies beginning this week to promote "National Prescription Drug Take Back Day" by posting and dispensing point-of-purchase flyers at each pharmacy with instructions on disposing of unwanted medications.
Beginning in September 2010, the Health Department and Somerville Police Department partnered to create a 24-hour, 7-day per week drop-off kiosk for medications for residents to dispose of unwanted medications, with the goal of preventing the unintended consequences of abuse of unwanted medication  All local pharmacies have agreed to participate in the program, and will have free informational flyers available at pharmacy counters.
This collaboration coincides with National Take Back Day, sponsored by the U.S. Drug Enforcement Agency and observed on October 29.  It addresses a vital public safety and public health issue associated with improper handling of unwanted medications   More than seven million Americans currently abuse prescription drugs, according to the 2009 Substance Abuse and Mental Health Services Administration's National Survey on Drug Use and Health.  Each day, approximately, 2,500 teens use prescription drugs to get high for the first time according to the Partnership for a Drug Free America.  Studies show that a majority of abused prescription drugs are obtained from family and friends, including the home medicine cabinet.  Take Back Days are held by the DEA every six months.
" Along with Mayor Curtatone, the Health Department is committed to taking action to prevent substance abuse in Somerville," said Health Department Director, Paulette Renault-Caragianes.  "Promoting the safe disposal of unwanted medications is a step we can take with the community to limit opportunities for young people to access drugs that may be harmful."
" We are so pleased that all the pharmacies in the City of Somerville responded to Mayor Curtatone's call to action for this effort.  The pharmacies in our City individually fill well over 1000 prescriptions a week and their collective action in providing information about safe disposal at the point of purchase should pay dividends in our prevention efforts," said Renault-Caragianes.
Flyers will be available at all CVS, RiteAid,and Walgreen's locations as well as in the pharmacy of Stop and Shop during the week of the 24th
For more information, contact the Somerville Health Department at 617-625-6600 ext. 4300.