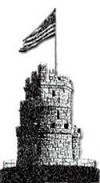 With pride and a great sense of achievement, a cherished segment of Somerville's youth recently undertook that special rite of passage we call graduation.
The Class of 2011 will face unknown challenges in the years ahead as they move on to colleges and careers, family life and final maturity. We extend our heartfelt good wishes to the nearly 300 graduates of Somerville High School, as well as those from neighboring high schools and colleges.
For those of us old enough to be moved by the warm nostalgia of these ceremonies, it is a bittersweet reminder of our own faltering first steps into adulthood and the fearsome prospects that awaited us. Yet somehow we pulled through. Somehow we got that first job. We married that special someone. We sent our own kids to school. And now the circle closes upon itself, reminding us again of how, with perseverance and determination, a life can become meaningful and rewarding.
We all have good reason to feel proud at this time. These kids are smart and strong. They will find their way and become better than we could ever imagine. This is nature's plan. May it always be so. May the circle be unbroken.